People Make the Difference
Success comes from motivated people equipped with clear direction, sufficient resources, and the right attitude. Maloney Security recruits, trains, and provides some of the best security people in the San Francisco Bay area. Our licensed security officers and supervisors will enable confidence that you and your show are secure.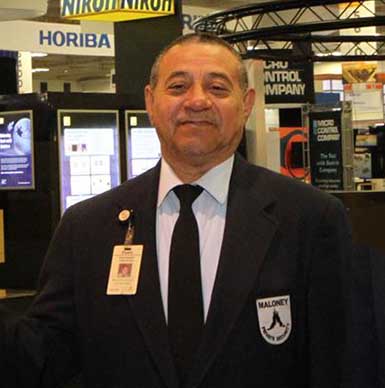 It was a great pleasure to work with the Maloney Securities staff during our recent OneVoice conference. The security guards were professional, diligent and performed their jobs very well. Omar and Jody especially did a great job, so please send along my regards. I hope we have the opportunity to work together again, in the future!

Rachel Clem, Meeting Coordinator, FSI
... the very first impression was huge. 40 mins early for the shift with a supervisor and the next guards came rolling right in and that was the same all week. The best one was [a] younger man in the EXPO area when I wanted to get in early in the morning [who] first stopped me and question[ed] who I was. ... Doing his job perfectly, ... which in all my years is a first. Really thought that was great. Thank you very much and we will be back next year for the same thing.

Rich McComb, CMP, Event Manager, Streamlinevents
Danny and Dominga are both a pleasure to work with. Dominga was especially proactive in checking with me daily and asking good questions so that she could pass information along to the onsite team. Her attentiveness helped to curb potential issues with several non-attendees who were roaming the registration area...Thanks again for a great event. I look forward to next year!

Buffy Fox, CEM, Exhibitions Coordinator, SPIE
Opportunities in Private Security with MSI
Are you willing to diligently carry out your responsibilities, working tirelessly and carefully to protect people and maintain their confidence in you? If you want an opportunity to make a difference, to help people from around the world, and not be tied down to a cubicle or office desk--private security may be what you are looking for.
Maloney Security can help you understand the demands and opportunities of private security. If you are not already licensed when MSI hires you, our support team can help you prepare for the required state certification to earn your California Guard Card. Come to one of our no-cost recruitment seminars to find out more about the advantages and requirements of working at Maloney Security, Inc. Available dates are below.
If you are interested in joining the Maloney Security team, see the requirements and desired attributes below. To be notified of our next recruitment event, please fill out the form to submit your contact information.



Flexible Work Schedule
Good Compensation
Advancement Opportunities



State Certification
Be Part of a Team
Develop International Awareness
Upcoming Recruitment Events
Learn about Maloney Security in Person
REQUIREMENTS:
Be 18 years old or over
Bring original documents of your VALID ID and SOCIAL SECURITY card,
and if applicable,
Bring your GUARD CARD with any corresponding documents, certificates, etc.
DESIRED ATTRIBUTES:
Punctual, Personable, and Professional
Customer-Service Oriented
Able to be on Feet for Extended Periods of Time
All Shifts Available for On-Call, As Needed Full-time and Part-time Positions
Wage: $14/hour and up
ARRIVE PROMPTLY for the informational presentation and subsequent interviews.
Interviews are conducted on a first-come basis.
Those With Guard Cards
Bring original documents: VALID STATE PHOTO ID, SOCIAL SECURITY card, GUARD CARD, and corresponding certificates, etc.
Date: Wednesday, March 7, 2018
Time: 9 a.m. ARRIVE PROMPTLY
Location:
Employment Development Department
801 Turk St.
San Francisco, CA 94102

Those With or Without Guard Cards
Bring original documents: VALID STATE PHOTO ID and SOCIAL SECURITY card (If applicable, Guard Card and corresponding certificates, etc.)
Date: Tuesday, March 6, 2018
Time: 9 a.m. ARRIVE PROMPTLY
Location:
Employment Development Department
801 Turk St.
San Francisco, CA 94102